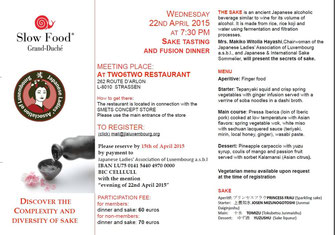 The third Sake event is coming!!
We would like to inform you that we will hold the collaboration Sake event "Marriage of Sake & French cuisine" with The Slow Food Grand-Duché
on Wednesday, 22nd April, 2015.
The course is consisted of finger food, appetizer, main and desert. Each dish which include the essence of Japan will be accompanied by selected different type of Sake.
Please see the attached invitation card for more information. You will find a new gastronomic frontier by inspired fusion of Sake & French cuisine!
Those who wish to participate the event, please book to mail@jlaluxembourg.org
We have limited places so please reserve as soon as possible.
===========================================================================================
日本酒イベント第三弾!!
今回は4月22日(水)に開催いたします The Slow Food Grand-Duché とのコラボレーション酒イベント
"Marriage of Sake & French cuisine" のご案内です。
フィンガーフード、前菜、メイン、デザート、それぞれのお料理に日本の香りをポイントで組み入れ、
それらににマッチングした日本酒をご提供します。詳細はインビテーションカードをご覧ください。
お酒とお料理の見事な融合による美食の新境地の発見間違いなしです!
参加をご希望の方は、mail@jlaluxembourg.org までご予約をお願いいたします。
尚、お席には限りがございますので、早目のご予約をお勧めいたします。