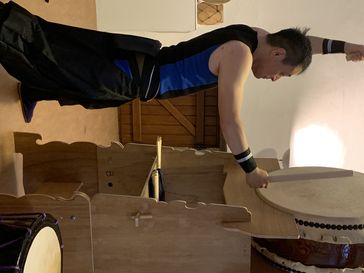 It was such an honour to have Ichitaro with us in Luxembourg and seeing his solo wadaiko performance at the salon of Mr Camille Kerger.
We were introduced to the history of wadaiko throughout Japan with a dramatic and energetic performance that blew all the audience away!
Mr Raymond, a Luxembourger who is a wadaiko drummer also collaborated with Ichitaro showing all of us his drumming skills from Japan.
2 lucky audiences were able to experience wadaiko drumming and after the outstanding drumming experience, all the audiences managed to enjoy drinks and nibbles together with the drummer Ichitaro.
This wonderful night could not have happened without Mr Camille so we want to thank you once again and of course we want to welcome back Ichitaro again to Luxembourg!