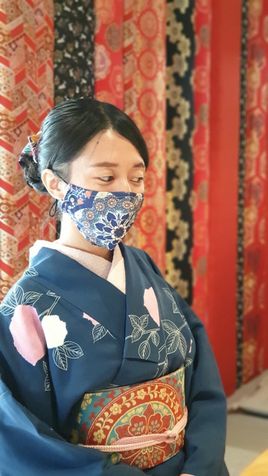 初めての方向けの着付け教室のご案内です。
9月23日(水)より計5回の着付け教室入門編を開催させて頂くことになりました。着物の知識から帯の締め方まで気軽に学ぶことができる内容になっておりますので、是非この機会にご参加下さい!
詳細は下記の添付ファイルをご確認下さい。
皆様にレッスンでお会い出来るのを楽しみにしています。
We are pleased to announce a class to be held in teaching dressing method ("kitsuke") for Kimono for beginners starting on Sept. 23rd.
There will be 5 classes in total which will be held every Wednesday for the duration of 5 weeks. You will learn about basic Kimono knowledge and at the end of the class, you will be able to wear Kimono all by yourself.
Please see attached file for more information and we are looking forward to seeing you in the class!
「日本語」着付教室
【日本語】着付教室.pdf
Adobe Acrobat Document
403.0 KB
「English」Kimono beginners class
【English】Kimono beginners class (1).pdf
Adobe Acrobat Document
687.2 KB